FRIENDSWOOD, Texas – Standing next to a wheelbarrow full of dirt and rocks amidst the gutted walls in her once flooded kitchen, Dianne Gallagher poses with a smile.
Electrical wires hang through the holes in the ceiling, but with her celebratory hat and t-shirt and the front page of the Houston Chronicle that reads "CHAMPS!", she can't find time to be sad: For the first time in her life, the Houston Astros are World Series champions.
Astros crush Dodgers, 5-1, to win first World Series
Social media reaction to Astros World Series title
The Gallagher family, like so many others in the Greater Houston area hit hard by Hurricane Harvey, rallied around their hometown Astros when times are seemingly at their worst: houses ruined, families displaced, a city on the long road to recovery.
Dianne didn't think much of Hurricane Harvey, at first. The Category 4 storm was supposed to hit Corpus Christi and could bring some heavy rain to Houston, but if they didn't flood during Tropical Storm Allison in 2001, she thought, surely they wouldn't flood during Harvey. But as the treacherous storm sent continuous rainbands over her home, water began to trickle into their laundry room.
Soon the water throughout the first floor was ankle deep. Dianne and her husband took their 3-year-old son, Charlie, upstairs into their Astros game room. Charlie slept among the Astros memorabilia—the framed pictures and newspaper clippings of Craig Biggio, the Astros bobbleheads and numerous baseball books. Dianne and her husband, Corbin, got little sleep. The water rose another foot inside, and Dianne noticed the water rising in her backyard. They were going to have to evacuate, she thought.
'Players gave us joy': Harvey victims who lost everything found happiness in Astros
Dianne packed bags while Corbin grabbed a pool raft for Charlie. They put Charlie and the bags in the raft and waded through their backyard to dry land. They kicked out panels in their fence and walked through a neighbor's backyard. They spent days staying with neighbors and friends as they tried to navigate through the flooding to a family member's home. It was four days before the water receded enough that they could finally return to their own home.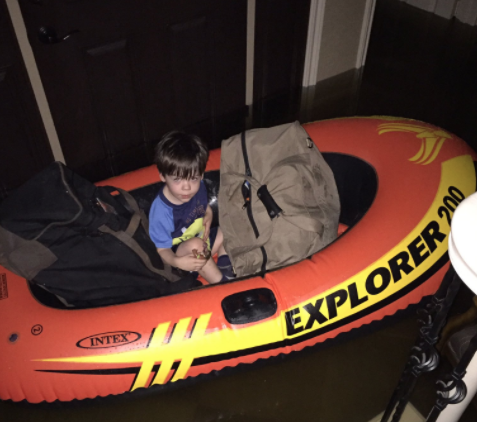 Dianne and Corbin have a combined 66 years of Astros fandom between them. They've watched the 2005 Astros finally beat the rival St. Louis Cardinals to reach their first World Series in franchise history (they were later swept in four games by the Chicago White Sox); they were at Minute Maid Park in 2007 when Biggio became the 27th person in Major League Baseball history to join the 3,000–hit club; they've suffered through the 100-loss seasons when the Astros' front office blew up the team with a greater plan in mind.
That plan finally came together this season. The Astros clinched their first division title in 16 years on their way to their first World Series championship. Each night, Dianne and Corbin put their son to bed and sat glued to their TV as the Astros beat the Boston Red Sox in four games, then rallied off two straight wins against the New York Yankees in seven games to clinch a World Series berth. Each victory brought a bigger celebration between the two—albeit quiet ones as to not wake their sleeping son in the next room.
Then the Astros outlasted the Los Angeles Dodgers in a rollercoaster, back-and-forth seven games in the World Series that clinched the championship. Dianne and Corbin cheered—quietly—and embraced each other in a hug after the final out. In that moment, there was no time to be sad, no time to stress about everything happening at home. Their team claimed baseball's crown.
"October would have been so different had the Astros not gone to the playoffs for people of Houston, because this is a slow process of bringing your house back together," Dianne said.
And for Corbin: "We had people at the house earlier today and they were like, 'I'm so sorry this happened.' I said, 'I've never been happier.'"
Photos: Astros beat Dodgers to win their first World Series
The three still return to their home every day, to the gutted first floor and the pile of dirt and rocks that sits in their kitchen. At times, it feels overwhelming.
"There are some days you walk around the beams of your walls and you want to be positive and you know there's light at the end of the tunnel, but it's long, slow days," Dianne said. "And if the Astros weren't in the playoffs you would just go to bed at night and that's all you would be thinking about.
"But the Astros made October so exciting. You put your kid to bed and you had something to get really excited about—and they weren't playing boring baseball, they were playing crazy baseball. You had a reason to go to bed with a big smile on your face every night."
Long wait for World Series title was well worth it for this lifelong Astros fan
There's still so much work that needs to be done. And repairs aren't moving that quickly—Dianne was hoping to be back in by Thanksgiving; now she's hoping for Christmas.
"There's always setbacks and those goals don't happen," she said.
As she walks through her home and the overwhelming thoughts begin to take over, all she has to think of is of her World Series champion Houston Astros.
And for that, she has all the reason to smile.